It's a Beautiful Day for a Healthy Ride!
Have you explored Pittsburgh by bike this fall? Today is a gorgeous* day to pop outside and get some exercise, endorphins, and enjoy the views of our beautiful city on a bicycle. 
A Healthy Ride for Transportation or Recreation
With bike-share, you get the best of...well, almost any world! For a (tiny) fee, you get access to hundreds of bicycles. And you never have to fret about fixing a flat or brakes - or performing any kind of maintenance! Their expert staff takes care of all that for you.  
Dollars and Sense & Dollars and Cents
There are a few ways to rent a Healthy Ride. Their pay-as-you-go option is their most popular and gives you the most flexibility. For just $2, you, too, can get outside and ride a bike for 30 minutes!
That works best if you only want to ride occasionally, are visiting Pittsburgh, or just really hate commitment.
Ready to Commit
If you think you might like (or benefit from) a Healthy Ride more than six times in a month -- there's an app for that. (Well, the app is actually for all Healthy Ride rentals).
You can see Healthy Ride bikes on the map in the Transit app. But once you've found the one you want, you'll need Healthy Ride's nextbike app to unlock the bike. (Get it here for ios or Android).
They also have stellar membership plans for frequent flyers that grant you unlimited monthly access to their fleet of over five hundred bicycles. 
Transportation for Forty Cents a Day
But, first, let's consider for a second just how mind-blowingly cheap it is for you to get around Pittsburgh using Healthy Ride bike-share. 
Would you believe me if I told you that Healthy Ride's $12 monthly membership works out to $.40 per day? Forty cents per day for 24-hour access to 550 bikes all over the city! You almost can't afford to not join! 
*(For the $12 membership, you have 1,488 opportunities to take a 30-minute ride every month. For the $20 membership, you can take up to 744 hour-long rides).
Cutting-edge Connection Between Healthy Ride and Port Authority 
Do you have a ConnectCard from the Port Authority? If not, get one! They're only $1 (here's a list of places where you can snag one)!
Thanks to a first-of-its-kind partnership between Healthy Ride and the Port Authority, you can use your ConnectCard for a free 15-minute ride on a Healthy Ride bicycle! 
It costs $1 to transfer between Port Authority buses, the T, and the inclines. By taking a Healthy Ride part of the way, you can keep that buck in your pocket. And, as their name tells you, you can even get a bit healthy on your ride.
$1 to Transfer Buses But Free to Transfer to Healthy Ride
So if your transit journey requires a transfer, you could save $1 by combining Healthy Ride and the Port Authority instead of taking two (or more buses).
Want to save time, energy, and money?
Here's an easy way to use the two services together:
Take the bus for the longest, most challenging, or hilliest part of your trip. Instead of waiting to transfer to another bus, use your ConnectCard to check out a Healthy Ride bike;
Tap your ConnectCard at a Healthy Ride station and get some muscles on the shorter, breezier, and flatter leg of your commute! And return it to any station when you're done.
This short video they produced shows you just how to get started:
**Of course, if you have a Healthy Ride membership for $12 or $20 per month, you can pass that ConnectCard to a friend or neighbor and just use your phone for transportation. 
Feeling adventurous?
Once you're more comfortable with riding on the road and your route, try it the other way around and take the bike for that part when you're usually chauffeured by Port Authority's finest. You're getting more fit with each journey!
Resources for Riding Bikes in Pittsburgh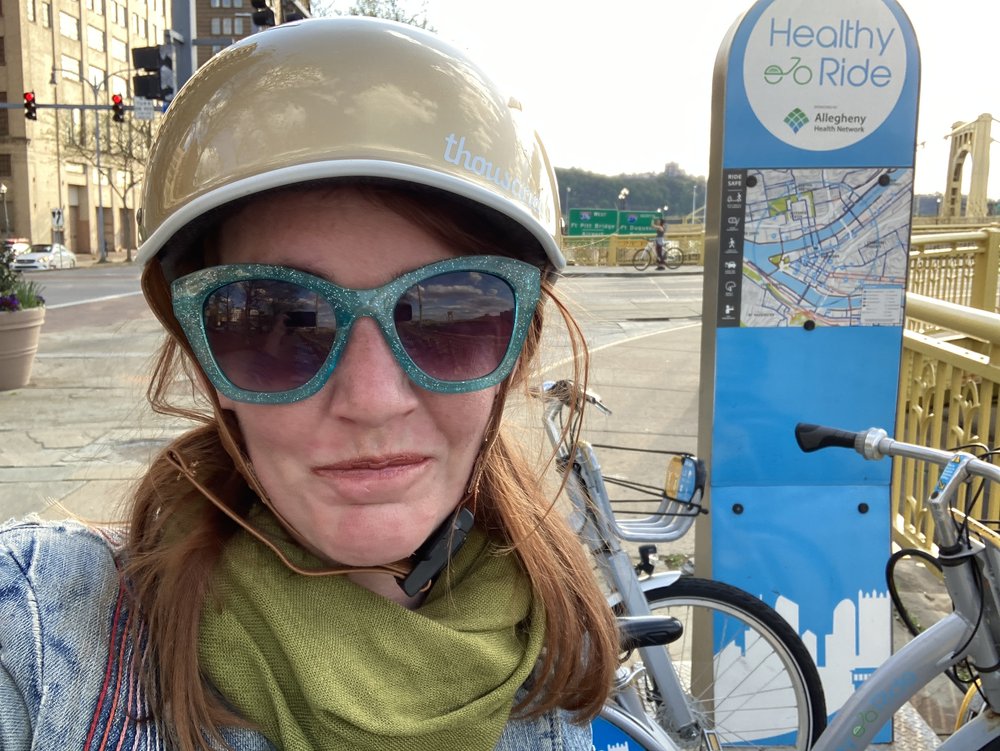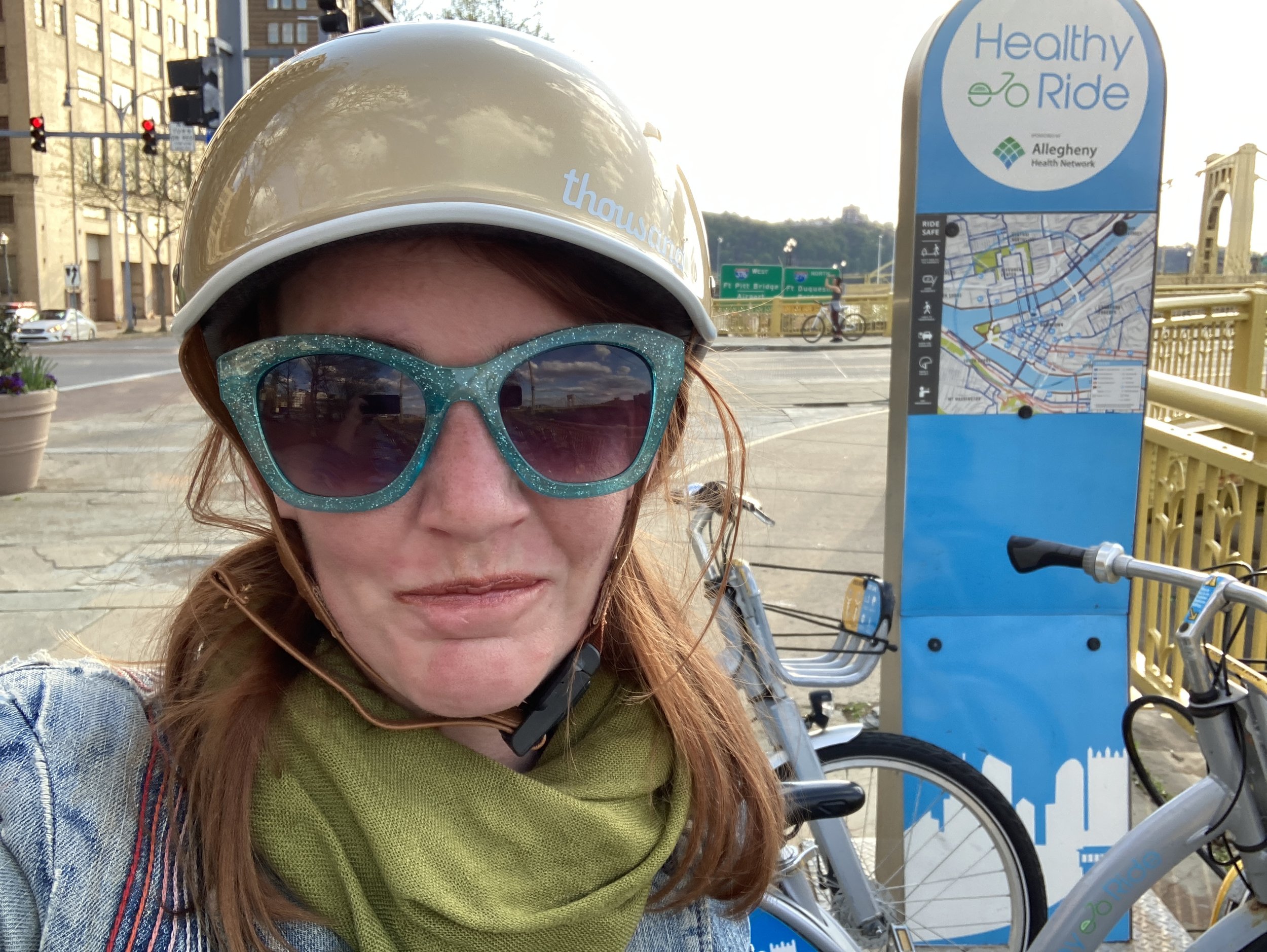 Healthy Ride: they have all the information you might need about riding in Pittsburgh, plus a fun and informative blog with a list of rides and events. 
Bike PGH: another essential local resource for biking education, events, and advocacy. 
Get confident riding in Pittsburgh -- for free (or almost)
It's a guide for "new and veteran bicyclists alike" developed by Bike PGH staff that answers many common questions about riding in Pittsburgh. 
Bike PGH also offers classes by instructors certified by the League of American Bicyclists. They'll escort you from novice to Negley-rider* in a single afternoon!
*Results not typical. Most people will not start to ride up the Negley Avenue hill immediately after taking this class.  
Join a group ride
One of the best and easiest ways to get comfortable on a bike fast is by joining a group ride. The Healthy Ride & Bike PGH are the best ways to find upcoming rides and advocacy events. Have other links or resources to recommend? Add them in the comments, we'd love to hear!
***
Have you taken a Healthy Ride? Do you have a favorite route? Has it been helpful for you to connect to Port Authority? What would make you ride more? 
Let's gossip in the comments!