See Pittsburgh from a Scoobi!
Have you ridden a Scoobi moped yet? If not, today is the perfect day to try out the moped-share that was created in Pittsburgh! 
Scoobi is a Move PGH partner and is the moped-sharing system in Pittsburgh.
Integration into Transit App
Move PGH and Scoobi are working closely with the team at Transit app so that you'll be able to rent Scoobis through the Transit app. While we're developing that capability, you'll need to use the Scoobi app. 
Ready to get started? Here's how…
First-Time Scoobi Riders!
Grab that Scoobi app: ios or Android users. 
If you've never ridden a Scoobi before, you will need to:
Scan your license

Watch a few short videos that will explain the entire renting process

Pass a safety quiz.

Follow the next steps to unlock your Scoobi and get moving!
Find Your Ride
Locate the closest Scoobi to you by opening the mobile app 

Check the moped map to find the nearest Scoobi with the highest battery life. 

After you reserve the Scoobi of your choice, you will have 10 minutes to get to the moped to start your ride.
But Where to Park Your Scoobi?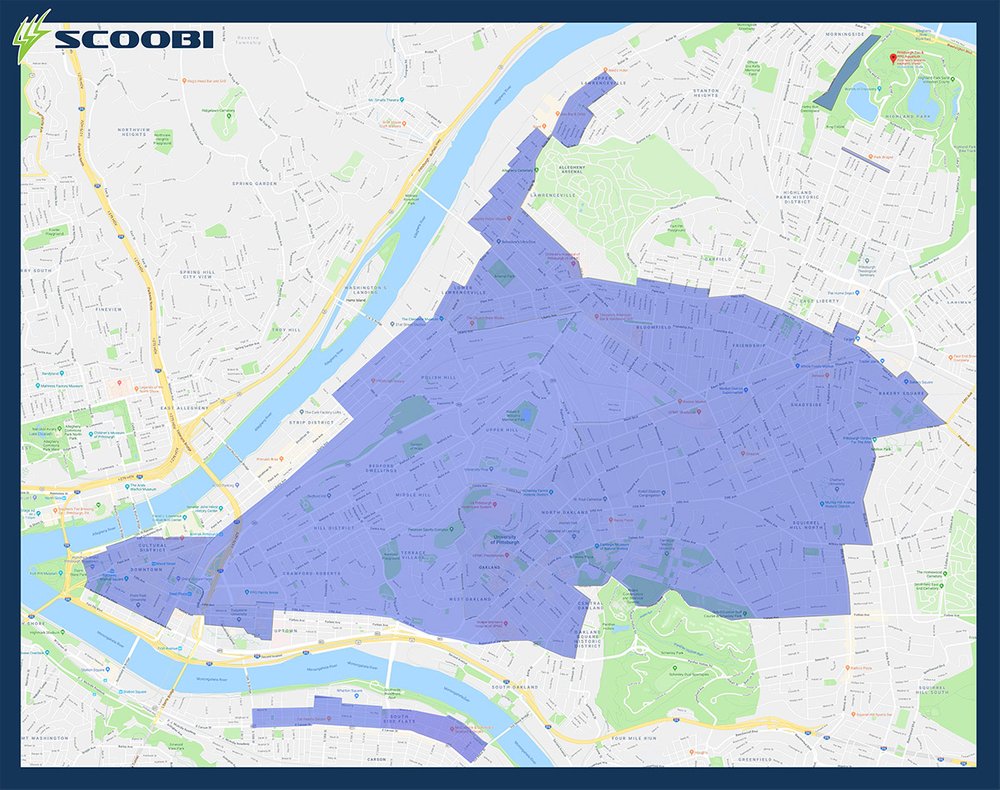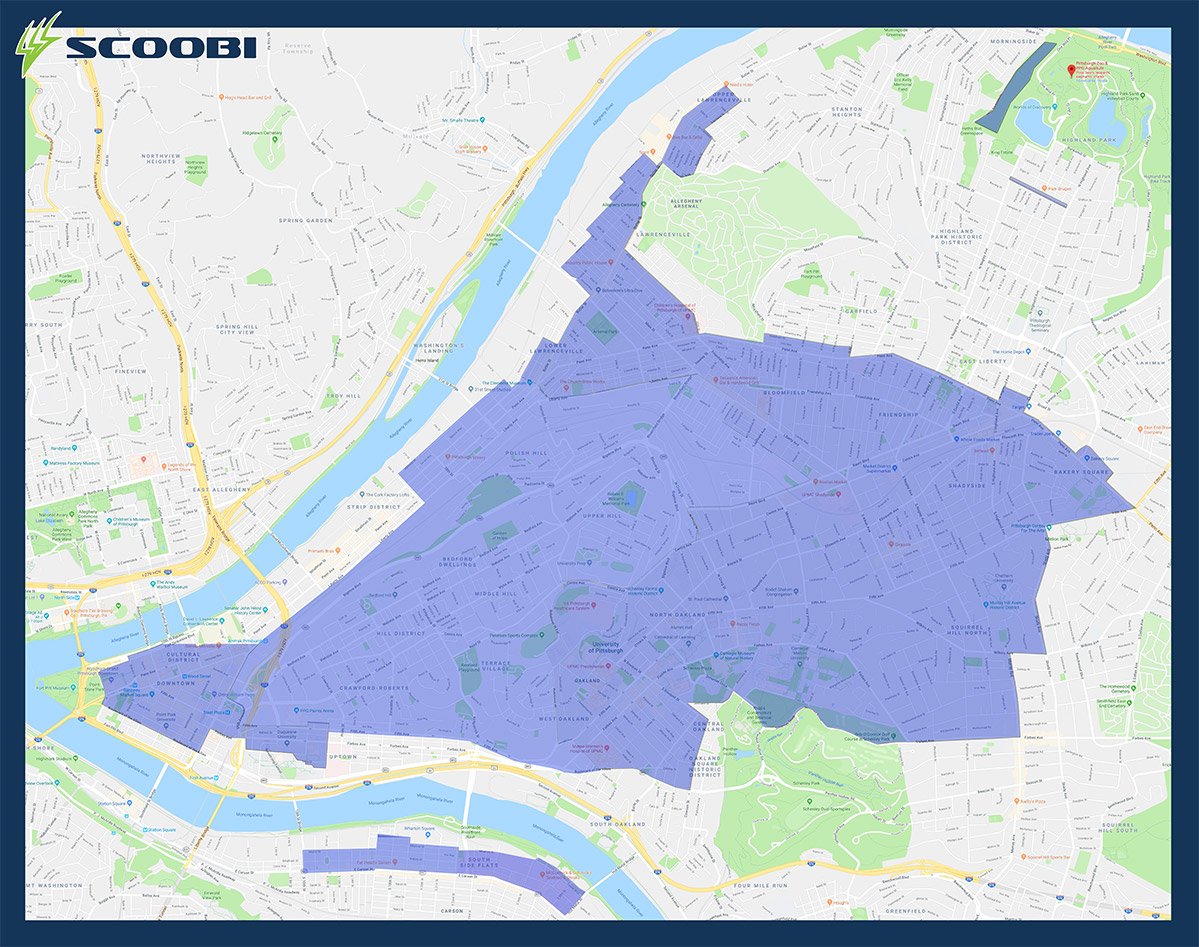 You can end a ride anywhere a car can legally park -- as long as there is not a "no parking" sign within 24 hours. 
**We're working on expanding this area to cover more sections of the city.
You are Responsible for Your Scoobi Parking Tickets
… so please always park legally
Make sure there's no street cleaning scheduled there within the next 24 hours.

If you park outside of the Scoobi parking zone, you may be charged a service fee. 

Keep an eye out for streets in red where you cannot park. These are primarily Downtown, but there are also a few other no-park areas -- they are also marked in red on the map.

You can pause your ride outside of the zone in legal parking without penalty -- as long as your ride ends in the parking zone.
Dollar Dollar Bill, Y'all
How much will a Scoobi set you back?
Renting a Scoobi costs: 
   $2.00 to unlock
+ $0.36 per minute of riding time 
_________________
= your cost for that trip
Need to pause your ride? That'll just be $0.18 per minute!
More Rides, Less Money
Feel like using Scoobis often? Sign up for one of their packages and keep some of that money in your pocket! 
Go Big:
They offer 300 minutes for $96.00, which works out to be $0.32 per minute with an unlock fee of $0.96 (the Edison Package).
Or go... Medium: 
100 minutes for $34.00 - just $0.34 per minute, with a $1.70 unlock fee (Joule Package)
Financial Assistance for Scoobis
Are you part of a government-funded public-assistance program? Scoobi has developed a program to extend access at a reduced rate -- you may qualify for reduced pricing of 50%!
You will need documentation showing proof of current enrollment in a public assistance program. 
Please note: The documentation used for verification must match the applicant's state driver's license information. Call customer service at (737)703-3626 to inquire about special exemption pricing. 
Although helmets are not mandatory in Pennsylvania, they are strongly recommended to protect that precious, precious cargo you're carrying above your neck. 
Each Scoobi comes with two helmets in the trunk, but Scoobis are suitable for only one rider at a time. They thoroughly clean each helmet with a lint roller, clear gear sports spray, and Clorox wipes every time they swap a dead battery.
Tell Us What You Think!
The Scoobi-moped share is an exciting addition to the Move PGH family. Scoobis are yet another way you can get around Pittsburgh without needing your own car. 
If you've enjoyed riding Scoobis in Pittsburgh, drop us a line in the comments and tell us (and prospective users) about your experience! If you haven't tried Scoobi yet, hop on and expand the way you travel!